(Or wishing while waiting, depending on how you choose to look at it)
How have you all been?
I've been quite busy, though, I suspect no busier than anyone else these days. It seems that's just the trend, or at least in my inner circle it is anyway. More often than not I find myself saying to my best friend, "I'm finding it hard to concentrate on most things because I'm so obsessed with all of the projects I could be making at home right now", to which I usually get an enthusiastic, "I know, right?!". I am surrounded by people with giant-sized ideas, gargantuan buckets of creativity and motivation that rivals Texas. I have often wondered if it's just a shocking coincidence that we're all drawn to each other, or if we just pick up on one another's creative energy making us all more thought-productive as a whole? Because I'll tell you what, the ideas? They've been a poppin'.
I have a few blogs I've been working on (finally!!) as I've gotten quite a few furniture projects finished, even a few private commissions under my belt (like a REAL designer!) and lately I have developed a lamp obsession. As a brief kinda-but-not-really sidebar, I have wanted a mantle (real fireplace optional) since, well, my last condo two years ago that had one. I want one pretty much like this:
I really.really.really want one. I think that not only do they add character, but also give depth, dimension and I love the 3D aspect of design in a room. It tells a story. Not to mention, depending on the time of year, it can give you so many more options when it comes to decorating.
This Winter I found this mantle that had serious potential at the
Ann Arbor Habitat for Humanity ReStore
. It was sitting there for at least a month or so beckoning to me from it's $200 sticker price. Now, normally I have no problem begging a lower price out of someone, even a charitable organization. Heck, I'm not exactly a non-charity at this point myself, not to mention, I'm a scoundrel. I have no shame. So finally, I broke down and asked if they would consider dropping the price -which was pretty ballsy considering they flat-out tell you prices aren't negotiable.
Literally
. See what I mean:
But I did. And hell if Jackie (The ReStore's Queen Bee) didn't counter offer me my mantle for $100. Stupid.Stupid.Stupid. I shake my head at myself as I type this. You can guess where this story is going.
I never bought it. I was broke (which is more my constant than Desmond Hume) and made excuses about what a frivolous purchase it was, that a large decoration shouldn't cost that much unless it incorporated some form of necessary utility and various other dumb things we say when we talk ourselves our out of something we really want. In retrospect, it totally would've been worth my eating Ramen for a month. By now that overly salty nastiness would be just a vague memory and I'd be staring at my mantle with it's well preserved Hydrangea Snowball arrangement nestled in the hearth. But no.
However, thanks to the glory hole that is Facebook, you can see what I missed out on. As luck would have it, when I added
A2 HFHR
, they had a photo of it. So now, there's photographic evidence of how stupid I can be:
::: Siiiiigh :::
I've been really digging a blog I found through (
House of Turquoise
?) called
The Magic Brush
. She's far more daring and expressive with finishes and darker colors than I am, but it's been very educational and I need to know a lot of the techniques she uses for future commissions. This woman seems to follow my rule of thumb for the most part, if it's brown, sand it down.
See what I mean?
Whereas, my other new stalk,
Life in the Fun Lane
(again, I'll blame
HOT
for this-in fact, when in doubt, assume pretty much everything I'm obsessed with is Erin's fault), seems to live by the rule, "If it's not white, then it should be". She has an extensive before and after section of her blog that I ogled for quite some time. To those of you that mock my white obsession, you'll be pleased to know that I'm now in a yellow phase. More on that laters.
Check out this awesomeness: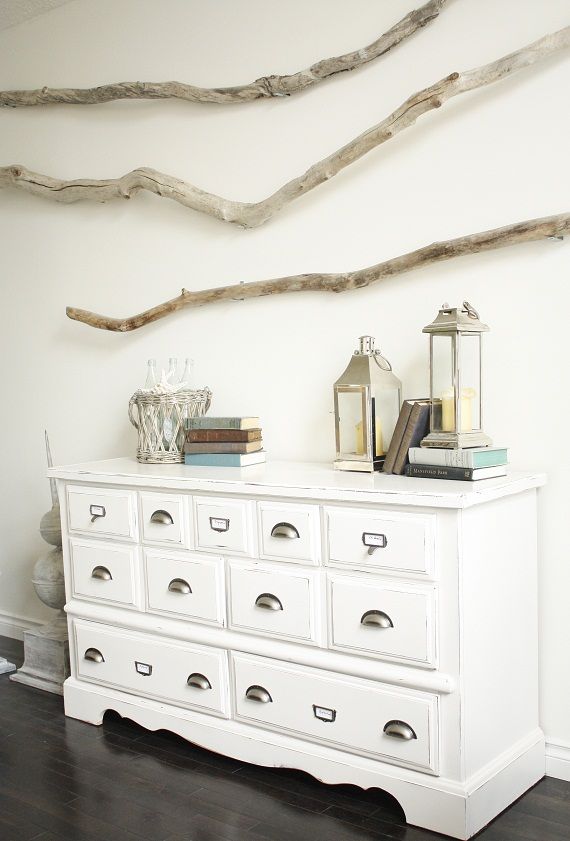 I love the look of this. I have been obsessed with card catalogs lately, and if I could afford them, I'd be cranking em' out like it was my job. Wait. I totally wish cranking them out was my job. I love the idea of the drawer labels. What a classy way for me to label Blake's dresser drawers. My next goal is to replicate this as soon as possible.
I love this image from
A Life's Design
:
That painting is to die for. I want one just like it only of a characture of myself. Yes, I said myself. Wha? (Sharri-Bean, can I has it?!)
And the table? Oh, for the love of goodness.
I love this window over the kitchen sink in the
Souther Living
post. The rest of the kitchen is pretty snazzy as well.
oooh....ahhhhh...
Waking up and making tea or coffee in front of such a light, sunny space? Heck, I might even be compelled to do dishes in it. (Yeah, yeah, who am I kidding? BUT-I would totally load a dishwasher).
If you've hiding under a large set of fluffy pillows for the past six months, you might've missed the onslaught of some really great typography posters that have followed in the footsteps of our "KEEP CALM & CARRY ON" friends. I have several favorites but topping that list:
Live What You Love print by one of my favorite Etsy Letterpress stores,
Hijirik Studios
.
Ineedsit. If you think I need it before I can get around to buying it, feel free to ask me for my address. Hah! I kill me, I really do.
Annnnd...I've been busy with my own photos and design projects.
After countless supportive emails from friends demanding that I do so, I finally began adding my photographs to my Etsy account. I've been showcased in a few treasuries already, entered some contests and I have to admit, it's an exciting and surprising rush every time. The idea that someone would like my stuff, things that I see with my own eyes and just fall in love with, well, it's pretty neat.
As for what else I have going on, I'll give you some hints: Yellow, Turquoise, Navy, Gray and White :)
For some clues:
I have a hot date with tomorrow. I'm inviting over my friend, Gorilla Glue, who is such a sexy beast, and some other hotties that can be rather abrasive, but I still love them anyway. I really know how to party. I can't WAIT
xo, Chrissa